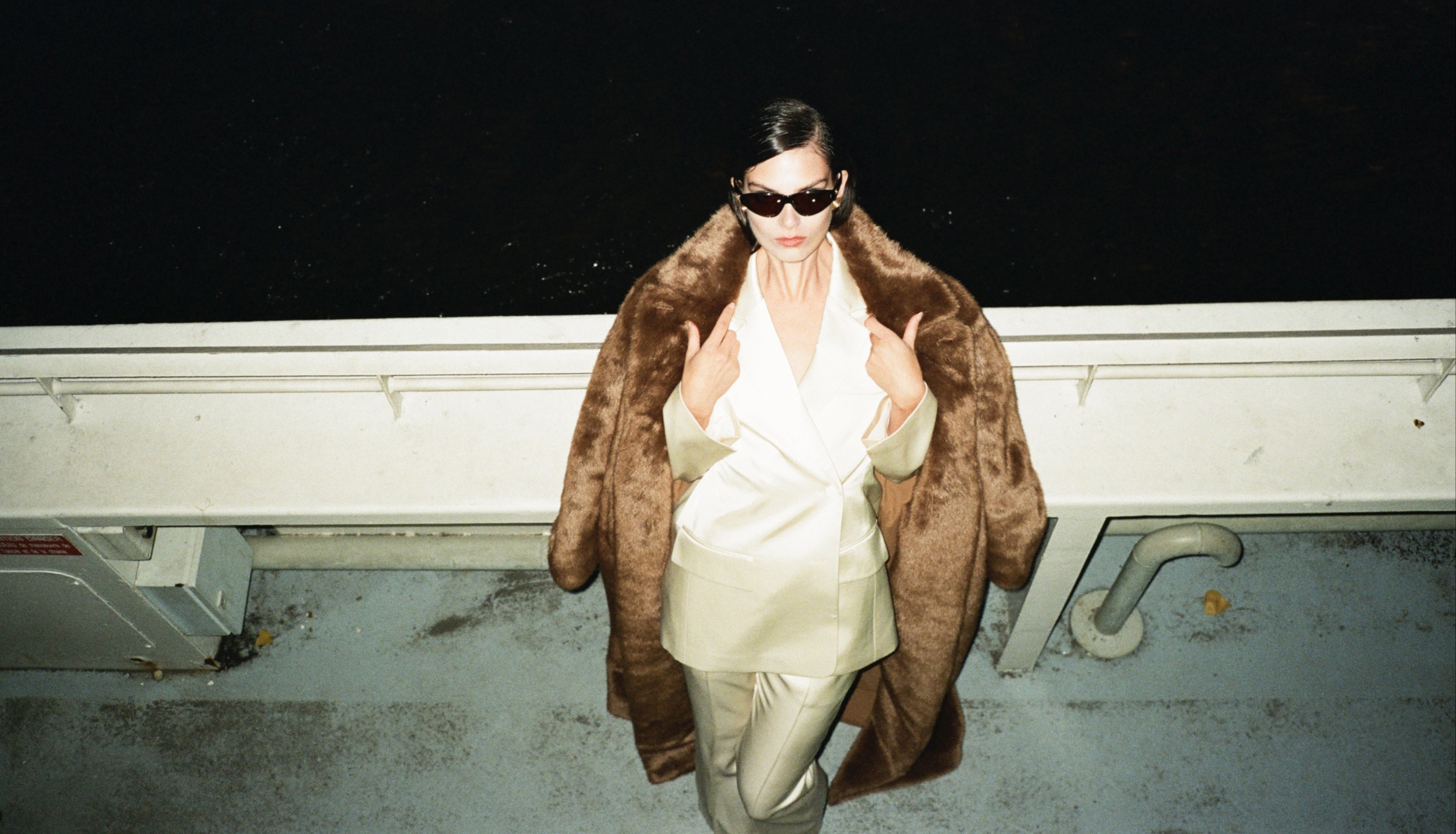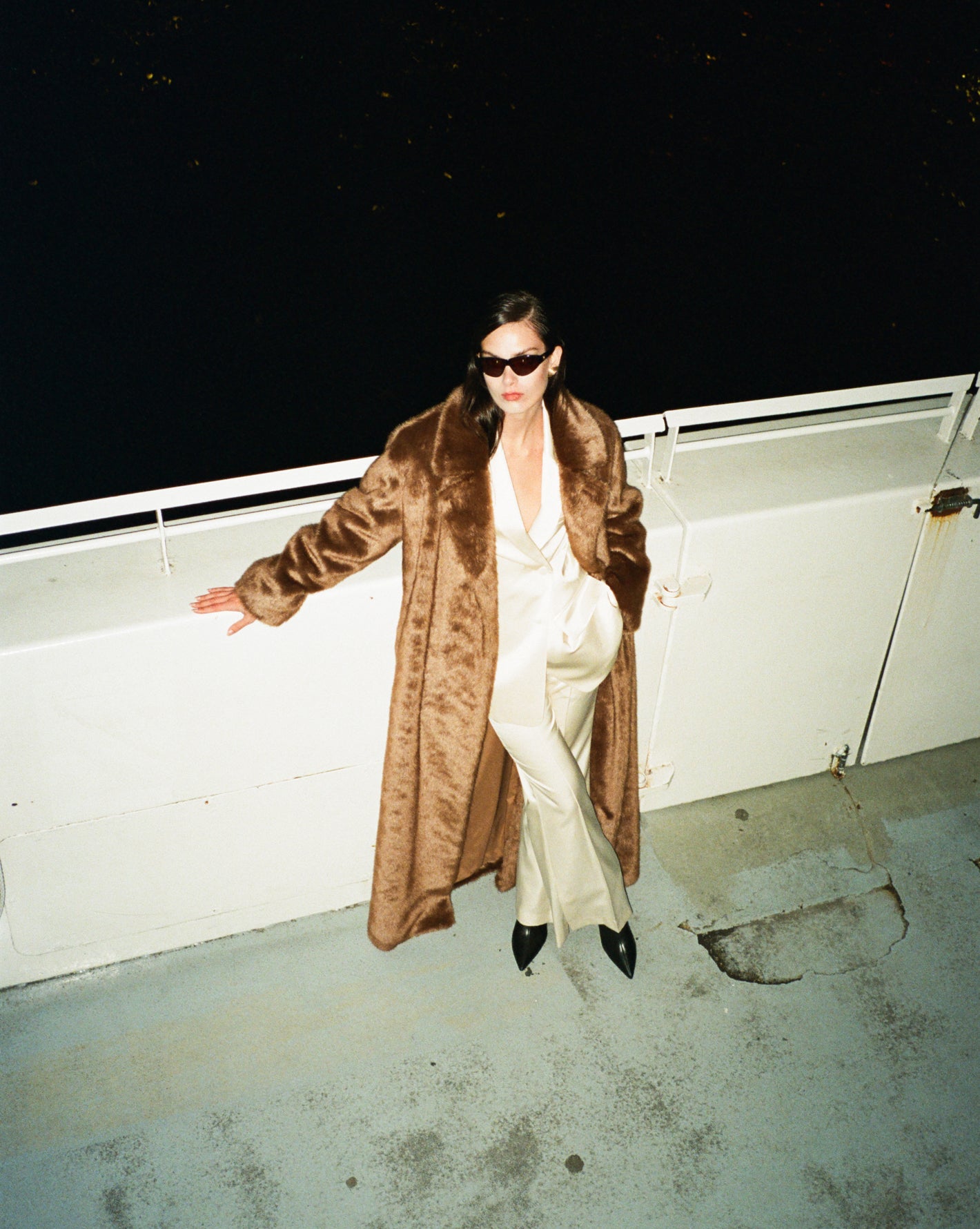 Introducing: Ultra Soir by Diana Bartlett
This holiday season, we shot Paris by night, inspired by the moody black & white photos of Helmut Newton.

We walked along the rain-covered streets of Saint-Germain-Des-Prés with model @palmaria in satin suits, lace tights and faux fur coats – an Ultra Soir collection, perfect for dark romance & an elegant night out.

We spoke to Diana about her insatiable taste for life, juggling photography, fashion, art and journalism while traveling across the world to capture every moment.
Soft-spoken and well-traveled, Diana gives us a tour of her world, one picture at a time, through the lens of her Contax T3 camera. She'll always catch the fine details that make everyday life that little bit more interesting & unique.

"Even from our earliest collaborations together, Diana knew how to play with fashion, styling and how to keep it elevated" – explained our founder, Gaëlle Drevet.
FRANKIE: So, Diana, you have a beautiful name but on social media you go by @punctually_late, can you explain why?
DIANA: It's quite romantic actually, someone told me I was 'punctually late to their life' and it stuck.
FRANKIE: You went from surfing everyday in Malibu, to the life of a worldwide explorer now living in Paris. How did that happen?
DIANA: I managed to create a career out of a lifestyle. Clients caught onto the idea of shooting in the various locations of my travels and I'm really grateful to be able to merge two things I love. I've spent the last few years between NY and Paris so it's always been a second home. That being said, it's a particularly special time to live in Paris now — it's having a renaissance. 
FRANKIE: What brought you to photography in the first place?
DIANA: Oddly I've never thought of this but it had to have been my short modeling stint at 15 where I had my first interactions with photo making. I stopped modeling but wasn't able to stop documenting, at that time and still today it's always been about real life. I went on to study photography at Parsons School of Design. My thesis project was inspired by Wolfgang Tillmans' book 'BURG' and now my photography book sits next to his at Yvon Lambert in Paris. It's a crazy parallel life sometimes.
FRANKIE: How would you describe your work as a photographer? What attracts you when you capture an image?
DIANA: I document and direct real life, there's always an element of me in the image. From taking on many roles of stylist, creative director etc — the subject whatever it may be is always a self portrait.
FRANKIE: Your latest photography book 'L'altra Gloria', a love letter to Le marche's region in Italy, was a tasteful and mouth watering trip down summer holiday lane. How does your love for good food, culture and traveling translate in your recent move to Paris?
DIANA: Living in Paris allows me to have those things on a daily basis — I'm able to experience joy and bathe in the lushness of the things I love.
FRANKIE: If you had to choose: Paris or NY?
DIANA: I chose Paris. NY isn't my city anymore. It's not that I don't love NY but Paris allows me to thrive.
FRANKIE: You are very specific with the way you dress, perhaps borrowing (stealing) items from your mom's closet. How would you describe your style? Are you a meticulous planner or a triple-change dresser?
DIANA: I'm neither. I'm kind of a mess, throwing things together as I'm running out the door — but I have a very strong foundation of taste and classic pieces from my mother. My style is relaxed and classic but there's always something off (perhaps due to my perpetual tardiness) — I don't like when things are too done.
FRANKIE: Even behind the lens it's clear a lot of the styling from the collection illustrates your own style, showcasing looks that you would wear yourself – how do you feel that The Frankie Shop represents this idea of dressing up and feeling like yourself?
DIANA: I think TFS allows and celebrates people being themselves without overthinking it.
FRANKIE: Since this shoot celebrates going out, where will you be going out this festive season?
DIANA: I'll be in Malibu with my family, and doing all the iconic Hollywood spots with friends.
Black tie for no occasion on a Tuesday...

CREDITS:

Photography @punctually_late
Model @palmaria
MUA @bitadoliviermua